Writing is more than just stringing words together in a coherent sequence. Writing gives us a way to allow people to see some of how we think, what we hope for, and what fascinates us.
In the samples below, you see a variety of writing. All of these were written about passions of mine: fitness, technology, and family. For each project, my style had to change to meet the needs of the client, topic, and to fit their voice when copywriting.
My goal is to understand the needs of your project and help you connect with your audience. Please email me so we can start working to achieve your dreams.
Shipping & Returns Policy – Created a page for Ethos Brewing Company discussing policy for quickly shipping project, and describing situations where returns are allowed.
How to Enjoy Your Holidays without Wearing Them in the New Year – Updated web copy for a fitness site. This page is used to promote a class dedicated to helping people manage their eating during holidays.
How Business Networking Concepts Supercharge Home Networks – Home Business Magazine is dedicated to helping you start up and succeed with a home-based business.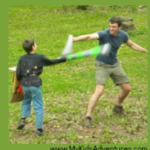 How to Stage a Sword Battle With Your Kids, Percy Jackson Style – My Kids' Adventure was an online magazine started by the founders of Social Media Examiner. They were dedicated to helping busy parents create adventures with their kids.